See our spaghetti squash recipe collection, often mispelled as spagetti squash, find delicious recipes, calories, nutrition, how to grow, how to cook spaghetti squash; bake, boil, microwave.
This squash variety, certainly seems a bit of an oddity. On the outside it looks like your average vegetable squash, but open it after cooking it and out spills thin strands resembling spaghetti.
And as for the taste, well, really, you can quite easily substitute it for spaghetti pasta if you only have spaghetti squash instead! It is also known as the
noodle squash
,
vegetable spaghetti
or
spaghetti marrow
.
This is a vegetable that will definitely intrigue the kids, and even the most finicky of eaters will try this vegetable just because of the novelty of it all.
Spaghetti Squash Calories
In addition, it is also excellent for those of us who are on diet as it has a high water content and very few
calories in spaghetti squash
.  There are only 40 calories in a 1 cup serving of spaghetti squash, which is a 1/3 of the calories one would find in the same serving size of pasta.
It is also low in fat but high in Omega 3 fatty acids and so is therefore excellent for cellular health.  This is a highly nutritious, low calorie vegetable.
 A Table Showing Spaghetti Squash Nutrition

| | | |
| --- | --- | --- |
| Nutrient | Amount | % Daily Value |
| Vitamin C | 5.4 mg | 9% |
| Potassium | 180 mg | 5% |
| Magnesium | 17 mg | 4% |
| Fiber | 2 g | 8% |
How to Prepare for your Spaghetti Squash Recipe
Simply wash the outside of the squash in preparation for cooking it in the shell. Because this type of squash is difficult to peel it is better to cook it either whole or split in half, but still leaving the skin on. However,
you must prick the skin with a fork
if you are going to cook them whole. Once cooked, the flesh can be scooped out and the skin can then either be discarded, or fed to your chickens.
This is why you need to prick the squash before baking whole!
How to Cook Spaghetti Squash 
You can cook spaghetti squash or vegetable spaghetti  a number of different ways. It can be:
boiled,
baked,
or even microwaved.
Bake Spaghetti Squash
If you are going to
bake spaghetti squash
whole you will need to prick the skin all over with a fork. Bake whole squash for about 1 hour at 180 degrees C. (350 degrees F.)
Bake split and halved squash cut side down. Halved squash is baked at the same temperature for 30 - 45 minutes.
If your squash is very ripe it will cook faster than one that isn't as ripe.
How to Microwave Spaghetti Squash
You can also
microwave spaghetti squash
. Cut lengthways, and then place the pieces face down in a glass dish with 1/4 cup of water. Cover with clingfilm. Cook on high for 7-8 minutes.
Boiled Spaghetti Squash
Boil spaghetti squash
; split lengthways in salted water, for 30 - 45 minutes until tender, and sliced squash for about 20 minutes. Place the squash face down in the pot, after you have removed the seeds but still retaining the skin. This just makes it easier to handle.
You will know when your boiled squash is ready when it is soft to the touch if whole, and the flesh of the sliced squash should separate easily into strands.
However, you can also cook the squash a lot quicker by cutting it up into 2 inch slices. Do not peel the skin and do not remove the seeds as this keeps the flesh intact during the cooking process. You can either boil or steam the slices for about 12 minutes and then scoop out the seeds. Either scrape the flesh out with a fork, or tease it out with your hands.
Cooking it this way may be a quicker option, but you end up with really short strands of the spaghetti-like flesh, which spoils half the fun.
Tip for Cooking Spaghetti Squash: The biggest mistake people make when cooking spaghetti squash is to over cook it. By doing so the squash becomes horribly mushy and bland. Don't overcook, just cook until it is just slight crunchy - like pasta - al dente.
Spaghetti Squash Recipe Collection
Spaghetti squash can, surprisingly, replace spaghetti in most recipes, and therefore can be topped with a variety of pasta sauces. It can also be used as you would any other squash and is good in stews and soups.
You can used cold, cooked spaghetti squash in salads, with or without a vinaigrette or mayonnaise. It can also be grated and eaten raw for those on a raw food diet. Here are some
more spaghetti squash recipe ideas.
You can use it as a substitute for pasta with a meat bolognaise sauce.
You can use it as a pie topping by mixing 1 cup of cold spaghetti squash with 1 cup grated cheese, 1/2 cup of dry breadcrumbs and 1 teaspoon curry powder. Mix and then place on the top of a beef or chicken pie that has been pre-cooked. Bake in a moderate oven until golden brown.
A perfect spaghetti squash recipe for Christmas leftovers. Take your cooked squash mix it with cubes of your leftover Christmas ham. Cover with a cheese sauce. Top with grated cheese and bake in a moderate oven until bubbly and golden.
A spaghetti squash recipe using cheese: Lay cooked squash in an ovenproof dish and cover with cheese sauce, grated cheese, dry breadcrumbs and a little parsley or chopped chives. Back under a grill until bubbly and golden.
This is an easy spaghetti squash salad recipe. Mix 1 cup of cooked, cold spaghetti squash into a bowl with chopped capsicum, zucchini, and celery. Add 1 tablespoon chopped parsley and 1 tablespoon of pine nuts or walnuts. Mix in a little creamy salad dressing of your choice. Refrigerate before serving.
A spaghetti squash recipe using herbs of your choice. A tablespoon of each will do; parsley, marjoram, and thyme, mix in a pot with about 4 tablespoons of butter. Melt and stir. Toss through the noodle squash.
Serve plain with a little butter and grated Parmesan cheese.
This next spaghetti squash recipe is made in the microwave for easy cooking and convenience.
Spaghetti Squash Recipe with Asparagus and Peas
Pierce the squash with a fork all over and place on a paper towel in the microwave, face down. Microwave on High until softened.
While it is cooking turn it over and rotate the squash a quarter turn every 3 minutes. Depending on the size of the squash this could take 6-12 minutes.
Leave to stand for 5 minutes and then cut open and discard seeds. Scoop out the flesh and place into a bowl.
1 x 2 lb spaghetti squash
2 teaspoons olive oil
2 scallions, thinly sliced
2 garlic cloves, minced
1/2 cup chicken stock
1/2 teaspoon dried marjoram
1/2 teaspoon grated lemon zest
1/4 teaspoon salt
12 thin asparagus spears, cut into 2 inch diagonal lengths
1 cup thawed frozen green peas
2 teaspoons fresh lemon juice
Parmesan cheese, to garnish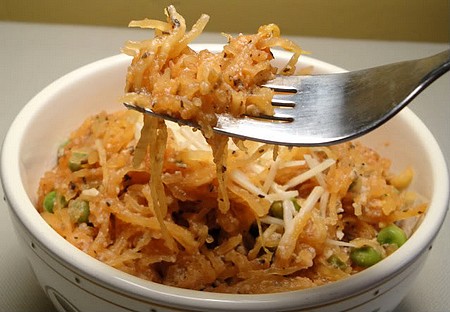 Asparagus and Pea Spaghetti Squash Recipe

Take a large pan and heat the oil over a medium heat. Fry the scallions and garlic for 1 minute. Add the stock, marjoram, lemon zest, and salt. Bring to the boil and then add the asparagus and peas.
Reduce the heat and simmer, covered, for 2 minutes. Stir in the cooked spaghetti squash and lemon juice. Cook, stirring occasionally, until heated through. About 3 minutes should do it.
Place in bowls, grate cheese over the top and serve.
Spaghetti Squash Recipe with Soba Noodles
1 spaghetti squash
1 cup snow peas
1 small pkt soba noodles
1 cup mushrooms, sliced
1 cup cherry tomatoes, halved
salt and pepper to taste
Cut squash in half lengthways, prick flesh with knife and place cut side down in a microwave-safe dish with a little water at the bottom. Microwave on High for 10 minutes, or until crisp, and not soft and mushy. Remove seeds and discard.
Scoop out flesh and cut up into small pieces. Keep the shells for later.
Break noodles in half and cook according to directions on packet. Drain and rinse in cold water to prevent overcooking.
Steam the peas until just cooked but still crisp. Rinse under water and keep cold in iced water.
Mix squash flesh and peas together and place back into empty squash shells. Pour the dressing onto the vegetables as per the recipe below.
Dressing Recipe:
1 cup plain Greek Style yogurt
1 tablespoon fresh tarragon
1/2 tablespoon sesame oil
1/2 cup orange juice
Mix together with a blender, place in fridge until needed.
Primavera Spaghetti Squash Recipe
1 spaghetti squash
2 cloves garlic, minced
1 summer squash, thinly sliced
1 red pepper, diced
1 cup carrot, grated
1/4 cup basil, chopped
1/4 cup parsley, chopped
pepper to taste
5 1/2 tablespoons butter
3 tablespoons flour
1  cup milk
1 cup chicken stock
1/4 cup freshly grated Parmesan cheese
This is a great spaghetti squash recipe for
vegetarians
.
Prick the squash all over with a fork and bake the whole squash in a moderate oven at 180 degrees C. (350 degrees F.)  Bake for about an hour. Check to see if it is tender. Continue baking until it is.
Remove the squash from the oven and reduce the temperature to 200 degrees F.
Split the squash in half, lengthways and remove the seeds. Scrape out the flesh and add to a baking dish and toss  with 1 tablespoon of the butter. Cover the dish with tin foil and place back in the oven to keep warm.
In a large pan place 2 more tablespoons of the butter and add the garlic,  the summer, red pepper and carrot. Fry gently for 3- 5 minutes.
Stir in basil, parsley and cracked pepper to taste.  Place in another baking dish, cover with tin foil and place back into oven to keep warm.
Sauce Primavera Spaghetti Squash Recipe:
Add 2 1/2 tablespoons butter to a saucepan and melt over a medium heat. Remove from heat and add flour. Mix well to prevent lumps and place back on heat to cook for a minute.  Remove and add the hot stock a little at a time, mixing well between each addition.
Now add the milk slowly and beat well to prevent lumps.
Place the sauce back onto the heat and and simmer gently until it thickens. Add the cheese and stir through. Remove from heat when melted.
Mix the sauce through the vegetables in the oven and then mix the whole lot through the spaghetti squash.
Baked Spaghetti Squash Recipe with Herbs
2 spaghetti squash
2 tablespoons olive oil
8 Roma tomatoes
3 large cloves garlic, minced
1/4 teaspoon dried chili flakes
1 head kale, leaves chopped
1 teaspoon dried oregano
2 tablespoons white wine
salt and pepper
2 tablespoon grated Parmesan cheese
Preheat oven to 400 degrees F.  Split squash into halves, lengthways and bake on an oiled baking tray, cut side down for 30 minutes.
Cut the Roma tomatoes in half, and add the tomatoes to the squash on the baking sheets and bake for a further 20 minutes or until squash is tender and tomatoes are well baked.
Heat olive oil in large frying pan and fry garlic over a medium heat. Add the chili flakes and then the kale leaves without the stem. Fry lightly for 8 minutes until the kale is bright green and tender but still crisp.
Stir in the oregano and the wine and mix well. Stir in the spaghetti and the tomatoes and toss with the kale.
Serve in individual bowls and top with the grated cheese.
Ham and Spaghetti Squash Casserole Recipe
1 x 3 lb spaghetti squash
1 tablespoon olive oil, plus extra for drizzling
1 large onion, diced
2 cloves garlic, minced
1 small sprig rosemary, leaves chopped
salt and cracked black pepper to taste
2 large eggs, beaten
1 cup sour cream
1 cup ricotta cheese, drained
1 cup Parmesan cheese, grated
1/2 teaspoon nutmeg
1 cup chopped, bacon or ham
Ham and Spaghetti Squash Recipe

If you have leftover Christmas ham then this is an ideal spaghetti squash recipe to make.
Roast the squash in a preheated oven at (180 degrees C. ) 350 degrees F. Cut the squash lengthways into two. Remove seeds and discard.  Place halves into a 9 " x 13 " baking dish, cut side down and add 1/2 cup water to the dish. Bake until tender for about 45 minutes.
In a large frying pan add the olive oil and cook onion over a medium heat until transparent. Add the chopped rosemary leaves and fry for a further 5 minutes.  Remove from heat and add salt and pepper to taste.
Remove the squash when tender and turn up temperature to 375 degrees F. Remove the squash from the baking dish and allow to cool slightly. Empty contents of baking dish, discard, and wipe dry before adding a thin layer of olive oil.
Scoop out the spaghetti vegetable flesh and place in a colander to drain off excess moisture.  Place in a bowl, add the onion mixture and stir through.  In a another bowl whisk eggs, sour cream, ricotta cheese, Parmesan and nutmeg. Stir through the spaghetti squash.
Place all into the baking dish, top with chopped ham or bacon and drizzle with olive oil.
Bake uncovered for 45 minutes or until firm and golden. Let stand for 10 minutes before serving.
Vegetarian Spaghetti Squash Recipe
1 large spaghetti squash
1 small egg plant, sliced into rings
1 medium onion, chopped
1 cup sliced mushrooms
1 red pepper, sliced into strips
2 tablespoons olive oil
2 cups tomato sauce
salt and pepper to taste
1 teaspoon dried mixed herbs
Parmesan cheese, grated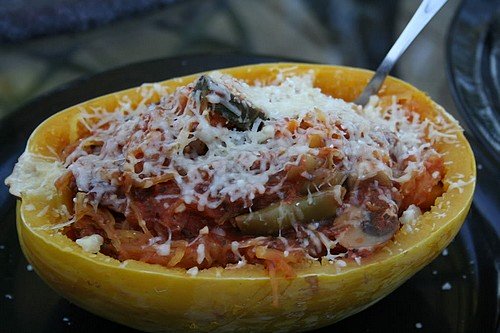 Vegetarian Spaghetti Squash Recipe

Here is another delicious vegetarian spaghetti squash recipe. Pre-heat oven to 180 degrees C. (350 degrees F.) and bake the squash for 30 - 45 minutes until tender. Allow to cool before opening and scooping out the seeds. Remove the flesh and place in a bowl. Keep shells.
In a large frying pan add the olive oil and slowly fry the egg plant, onion, mushrooms and bell pepper. Cook until soft, then add the squash spaghetti and place on top, followed by the tomato sauce. Cook for a further 5 minutes until heated through.
Place back into shells and garnish with grated Parmesan.
Grow Spaghetti Squash
When you are growing spaghetti squash on your homesteads, farms and in your backyards it is grown in the same way as you would grow any curburbits - 3 seeds to a mound of soil, and treat the plants as you would for zucchini.  
You need a fair amount of space to grow these vegetables as they do spread out, and the weight of each squash is about 2 kg, with several fruit coming off one plant.
This squash can be grown vertically if you have small gardens, as seen left.
This is actually a climbing vine which puts out tendrils that allow the plant to be self-supporting. The spaghetti squash plant can reach a height of up to 8 feet.
Within 12-14 weeks of sowing you should have your first spaghetti squash ripening on the vines for harvest. You can get up to a dozen fruit from a single plant and some can grow up to 5 lbs in weight.
You will see the upper side of the fruit turning from a creamy white to a yellow when it is time to harvest. Once picked, the squash also keep well like their pumpkin cousins.
Storing Spaghetti Squash
Pick the squash with a little bit of the stem still attached and remove the soil and store.
Storing spaghetti squash is usually problem-free if stored in a dark place in temperatures of between 50-60 degrees F. The squash will keep for 3 months if stored under these conditions.
Other Resources:
We have lots of pages where you can contribute to throughout this homesteading website. We love hearing from our readers, and hope you will be one of those we hear from too. Look around our homesteading website. 
If you have a spaghetti squash recipe of your own, please add them by using this submission page below. We would love to have your contributions!
Please check back from time to time for new updates to our homesteading website or get our latest news via our free monthly homesteading newsletter. Sign up below. There is always new information being added, almost on a daily basis, just for you! We hope to see you again!