Turkey Creek Farm
by Heather Richter
(Thrall, Texas, USA)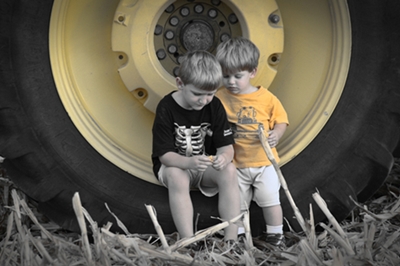 Brotherly Love
This was taken one afternoon while my boys were taking a break from combining corn in the field.

My 2 year old was listening to my 6 year old talk about the corn cob.

What a special moment I captured!

**************************************************

What a special moment indeed, Heather! They are so deep in thought and conversation and love the scale of them being dwarfed by the tyre they are sitting on.

I can't think of a better environment to bring up children these days than on a farm. Farm kids are still connected to the environment and don't think that milk is naturally pink and is made in factories like some kids do!

Thank you for sharing this farm photo with us, we love getting pictures from you all.
Did you find this page helpful?
Sharing is a way of saying, "Thanks!"
Follow Us and Keep Up to Date
Go back to the Home Page