H Street Farmers' Market, Washington, DC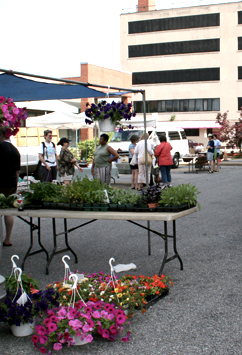 H Street Farmers' Market
At the H Street Farmers' Market you can find a plethora of fresh, farm produce.

From freshly baked wheat bread, goats' cheese with herbs and other artisan cheeses, fresh brown farm eggs, certified organically grown fruit and vegetables and freshly baked goodies.

Find gooseberries, blueberries, white peppers, potatoes, cucumbers, ice cream and pork that has been pasture-raised.

Saturdays: H Street, NE, Washington, DC

Market hours: 9:00am to 12:00 noon

Location: In Parking lot between 609 and 625 H Street, NE,

Market Dates: Saturday, May 2 ? November 21, 2009
Chef Demo: 10:30am

Although this is a small market, farmers only bring to sell what they have produced on their own land, and are more than willing to share their knowledge and give advice when asked.




Join in and write your own page! It's easy to do. How? Simply click here to return to Farmers Market.
Did you find this page helpful?
Sharing is a way of saying, "Thanks!"
Follow Us and Keep Up to Date
Go back to the Home Page