Farm Holidays Italy for Sunflowers, Grapes and Olive Oil

Farm holidays Italy
. Rent villas and farmhouses in Italy from budget rentals to sheer luxury. There are a number to choose from, along with some we can recommend. Agritourism is big business in Italy, where farm accommodation is offered on working farms, and often restaurants are on the properties offering food produced directly from the farm. Come and visit the land of sunflowers, grapes and olive oil for an unforgettable experience.
Travel Italy and you will be amazed how beautiful and diverse the Italian countryside is. It is almost like traveling through several countries rather than one, when you traverse the country from top to bottom and east to west. The dialects are different, the food is different and the customs and cultures are different. But several things remain constant, the people are hospitable, friendly and generous, they all talk with their hands when they get excited and the scenery and old hilltop villages and towns are picture-perfect.
So many of us have read and loved Frances Mayes' Under the Tuscan Sun, and how many of us have wanted to go to Italy because of it? Farm holidays Italy allow you to have the same experiences.
I was one of those readers and I have to say, I wasn't disappointed. It was everything she described it to be, and more some. So much so that Italy became our number one travel destination and over the last 6 years we searched for a farm of our own. And now we too have a little slice of paradise in Tuscany, just between Chitignano and Rassina. You can read about our farm purchase and restoration here: A Tuscan Farmhouse.
One of the best kept secrets in Italy is the Casentino Valley. I suggest if you are looking for farm holidays Italy, this is the place to be. Once home to Francis of Assisi and the birthplace of Michelangelo. It is a beautiful valley and home to one of the largest National Parks in Italy. It is also home to Arezzo, Poppi and Camaldoli - all worth a trip while you are there. And if you cannot resist the more touristy places like San Gigminano, Sienna, Montepulciano, Perugia and Cortona, they are all within an easy day's trip.
The farms in Italy are as they have been centuries before. Italian farmers are not into huge commercial farms, and as a result, most of what they farm is organic. They keep the best olive oil in the country and that from Tuscany is particularly pleasant; dark green with a peppery after-taste. Wine is cheap enough, and readily available through wine routes, especially in the Chianti area. If you can afford it try a bottle of Brunello, and Vin Santo is a must after an evening meal with a biscotti to dip into the sweet wine to finish off a perfect meal.
A Typical Tuscan Farmhouse

Have I tempted you enough? Don't just read about it, come and experience a farm holiday in Italy for yourself. Italy is full of stone farmhouses, villas, and farm stays on farms which are part of an increasingly growing trend; agritourism. And above all, Italians are passionate about Italian Food. Come and taste the wine, the Pecorino, the prosciutto, the olives, the sun dried tomatoes... Talking about tomatoes, you have never tasted better tomatoes than those grown in Italy! If you cannot come over for a visit, but you love Italian food then have a look through our
Italian Recipes.
There are many farmers' markets held throughout Italy on almost every day of the week except Sundays. If you are in Rome there are some excellent food markets there. j
For those of you who are about to travel Italy or have been and would like to drop by at our other website we would love to see you. The Travel Italy Grapevine is for the latest travel reviews and gossip for your Italian holidays and vacations. This is your travel guide to Italy where you find out about the best tourist attractions in Italy, find out about the best Italian restaurants and and swap your favorite Italian cooking recipes. Get the latest scoop on where to go, and what to see by people who visit Italy.
If you have a farm in Italy that you would like to showcase visit our Farm Forum. You can upload a picture and brag a little. We don't mind! There are other individual farming discussion boards to contribute to through this forum, as well as a Craft & Recipes Forum where you can share your favorite recipes and also get some crafting ideas for various arts & crafts.
Farm Holidays Italy
Our Feature - Listed Farm Accommodation










L'Ape Regina


      C.da Pretara - 65020 Corvara  (PE)
                     Abruzzo                   


+ 39 085 8889351
+ 39 339 3251180

L'Ape Regina is a working, organic farm in the heart of the Gran Sasso – Laga National Park. Set in 6 hectares of pristine countryside, this farm offers spectacular views and traditional hospitality.

Your hosts, Marino and Elide welcome you to their home and generously offer to share with you their knowledge of making cheese, beekeeping, liquors, jams, prosciutto and other pork products and how to cook traditional Italian food.

Offering half–board (accommodation, breakfast and dinner) in their double or triple rooms (there is even the option of staying in the tree house) you will be able to enjoy communal dinners made from organic produce, pizzas from the wood-burning oven, fireflies in the garden and good company in a truly magical setting.

For those of you looking for an active holiday the area is perfect for hiking, skiing in winter, cycling, horse riding, tennis, fishing and canoing. Visit the quaint villages in the area and see traditional crafts still being made in a region where time has stood still.

Staying at L'Ape Regina will be an unforgettable experience that you will carry with you long after you have returned home.




Rates:





Low Season:

1 May - 30th June
1 September - 31st October
50 Euros, per person



High Season:

1 July - 31st August
55 Euros per person


(Rates are for Half - Board; Accommodation, breakfast and dinner)

Childrens' Rates:



Free up to 3 years of age, from 3 up to 12 years of age discount 30%, from 12 years and above full price.






| | | | | |
| --- | --- | --- | --- | --- |
| Farm Accommodation | Category | Website | E-mail | Telephone |
| Villa la Contea, Tuscany | Self-Contained | website | e-mail | +39(0)0575/592170 |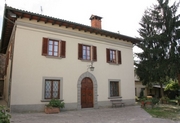 Although this isn't a farmhouse now, it used to be, and it is a very special property. It was part of an ancient farm that used to belong to the Contessa Visani-Rassinesi in the 15th century, after which Rassina is named, in the Casentino Valley. The main house, lived in by the owner, contains a medieval chapel and beautiful frescos.
Although there are two houses on the property, they are totally separate and independent. The villa is extremely comfortable, especially for large groups as it has 4 bedrooms and can easily sleep 10. The owner and her family are wonderful people who are very hospitable. There is plenty to see and do in the area as the house is well-positioned in the Arezzo Province. It is also well positioned for dining out as there is a wonderful pizzeria and restaurant set in large gardens, right next door! This is a villa I have stayed in myself, and can personally recommend.
---
---
More Farm Holidays Italy
---
| | | | | |
| --- | --- | --- | --- | --- |
| Farm Accommodation | Category | Website | E-mail | Telephone |
| Agri Costella, Apulia | Self-Catering | NA | NA | +39 0884 701636 |
---
| | | | | |
| --- | --- | --- | --- | --- |
| Farm Accommodation | Category | Website | E-mail | Telephone |
| Bio Agriturismo Il Vigno, Tuscany | Self-Catering | NA | NA | +39 0575792019 |
---
| | | | | |
| --- | --- | --- | --- | --- |
| Farm Accommodation | Category | Website | E-mail | Telephone |
| Fattoria Colle Luca, Abruzzo | Eco-Farm Holiday | NA | NA | +39 3498085840 |
---
| | | | | |
| --- | --- | --- | --- | --- |
| Farm Accommodation | Category | Website | E-mail | Telephone |
| Villa Mongalli, Perugia | Self-Contained | NA | NA |  +39 0 348 5184134 |
---
| | | | | |
| --- | --- | --- | --- | --- |
| Farm Accommodation | Category | Website | E-mail | Telephone |
| Villa Pianacci, Arezzo, Tuscany | Self-Catering | NA | NA | +39 3347965938 |
Here's is some more information on farm holidays Italy in an article about farm holidays in Tuscany, written by Robert Carlton:
Title: A farm holiday in Tuscany - A Vacation to Remember
If you are looking to travel to a unique and beautiful destination in Europe, the wonderful Tuscany in Italy is an excellent choice of holiday destination when looking for farms in Europe. The rich culture, fascinating lifestyle, and breathtaking beauty of this destination means that a vacation here will truly be a vacation to remember. When it comes to finding accommodation in the area, you will enjoy a range of choices, one of the most popular is a farm holiday in Tuscany, where you can enjoy the delights of your own farm accommodation throughout your stay, enabling you to ...
Did you find this page helpful?
Sharing is a way of saying, "Thanks!"
Follow Us and Keep Up to Date
Leave a Comment
Do you have anything that you would like to add after reading this page? We would love to hear your thoughts. If you can add additional information to what has been written here you will be adding value to the website! No need to have any special skills - just type and submit. We will do the rest!
---