Apple Fritter Recipe
by Countryfarm Lifestyles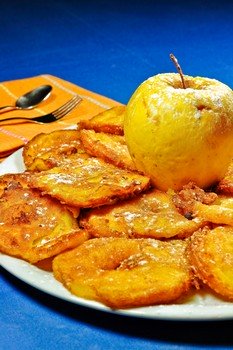 apple fritters
Apple fritters can be eaten on their own or they can be sprinkled with a mixture of cinnamon and sugar. However way you eat them, apple fritters are simple to make and one way to get kids to eat their fruit.

Recipe for the Batter:

225 g (8 oz) plain flour
1/2 cup warm water
1 egg white
l dessertspoon oil
lemon juice

Method:

Sift the flour into a basin, pour in the oil, then the water, and beat into a smooth batter; stand for an hour, if possible in a cool place.

Whip the white of the egg to a stiff froth, and stir it in, and it is ready to use.

This batter is useful for fritters and many dishes, both sweet and savory.

NOW:

Peel and slice up some apples into rounds, take out the core with an apple corer.

Flavor the frying batter with a squeeze of lemon juice. Dip the pieces of apple into the batter, shake off and plunge into plenty of hot oil. Fry till a light golden color.

Drain on kitchen paper, pile high on a dish, and sprinkle with sugar and cinnamon; serve very hot.

Join in and write your own page! It's easy to do. How? Simply click here to return to Share your Best Recipes.
Did you find this page helpful?
Sharing is a way of saying, "Thanks!"
Follow Us and Keep Up to Date
Go back to the Home Page