Easy Potato Recipes for Baked, Mashed, Roast or Fried Potatoes
Quick and easy potato recipes
whether mashed, roasted, fried or baked. This is a vegetable that remains the ultimate comfort food.

Classified as both a starch and a vegetable, potatoes are a good source of potassium and complement almost any type of meat and other vegetables like celery or leeks.

With over 4000 varieties and hundreds of ways to prepare them, potatoes continue to grow in popularity because they are so versatile. Here are some quick and easy potato recipes to try.
EASY POTATO RECIPES: Baked Potatoes
Bake in a moderated oven until cooked. Leave to cool for several minutes, then open by placing a cross on the top. Push with both thumbs and forefingers to push the flesh slightly out of the skin. Season to taste, and serve with sour cream and chopped chives.
EASY POTATO RECIPES: Rustic Potato Wedges
Cut the potatoes into wedges, leaving the skin on, but scrub well.

Place in a bowl. Brush with olive oil, and toss in salt, pepper and chopped herbs of your choice.

I like to use rosemary, thyme and mixed herbs from time to time. I leave this up to you.

Bake in a moderate oven until golden-brown and cooked all the way through.
EASY POTATO RECIPES: Baked Potato and Rosemary
Scrub and clean 6 new potatoes. Place in a baking tray. Pour 4 tablespoons of olive oil into the tray and swirl around coating the potatoes with the oil. Sprinkle rosemary on the potatoes and swirl again. Sprinkle them with rock salt, to taste. Place in pre-heated moderate oven until cooked.
EASY POTATO RECIPES: Baked Potato Skins
Cook the potatoes and scoop out the flesh, leaving the skins intact. Brush with olive oil and bake until crisp. Spoon a filling of your choice into the skins before serving.
EASY POTATO RECIPES: Stuffed Jacket Potatoes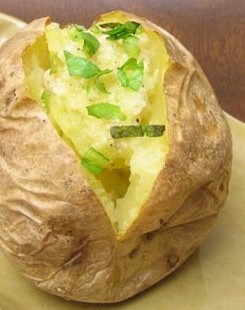 Bake 6 potatoes in a moderate oven until cooked. Cut potatoes in half and scoop out flesh, carefully making sure that you don't tear the skin.

Sometimes it is better to leave a few centimeters of flesh behind, all the way round.

Place flesh in bowl. Mash with about a cup of cheddar cheese. At this stage you can add sliced leeks, or chopped onions, chives, parsley etc. Season well, and carefully place mixture back into potato casing.

Sprinkle with extra cheese and some cooked bacon pieces and bake for 15 minutes more, until cheese has melted.

EASY POTATO RECIPES: Potato Frittata
Fry sliced potatoes in a pan before adding finely-sliced vegetables of you choice. Whisk egg yolks with double cream and season; pour the mixture over the vegetables and cook until the base has set. Flip over and cook the other side until golden brown.
EASY POTATO RECIPES: Mashed Potato
Boil the potatoes until tender. Drain, then add a splash of milk or cream. Put the pan back on the stove until the liquid is hot. Careful not to scorch the potatoes at this stage. Add a knob of butter and remove from heat. Mash until smooth. Season to taste.

If you want your mashed potato to take on a whole new level add a cup of Parmesan cheese at the start just before you add the milk and cream. I love eating mashed potato like this, it is very tasty and creamy.
EASY POTATO RECIPES: Parmesan Potato Cakes
450 g potatoes, boiled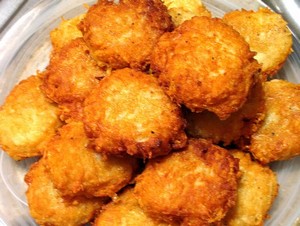 1/2 cup Parmesan cheese
25 g butter, melted
1/4 flour
1 egg
seasoning
egg, or milk for glazing


Mash potatoes and add cheese, melted butter, flour, egg and salt. Mix well and turn onto floured board. Shape into small flat cakes, place in a buttered oven-proof dish and brush over with egg or milk. Bake at 200°C until pale brown. Cut open, butter and serve hot.

EASY POTATO RECIPES: Potato Croquettes
450 g potatoes, boiled and mashed
1 egg yolk
2 tablespoons butter, melted
1 tablespoon parsley, finely chopped
seasoning






Mix all ingredients together well. Form into little croquettes and deep fry in hot oil until golden brown. Drain on kitchen paper and serve.

EASY POTATO RECIPES: Crunchy Potatoes
1/2 cup toasted breadcrumbs
4 cups raw grated potato
1 egg, beaten
1 onion, grated
1/2 t salt
3 tablespoons butter
1/2 cup grated cheese

In a bowl combine breadcrumbs, potato, egg, onion and salt, and mix well. Grease and ovenproof dish, spread the mixture into the dish, dot with the butter and sprinkle with cheese. Bake at 180°C for 40 - 50 minutes, until golden brown. Serves 6.

Mix all ingredients together well. Form into little croquettes and deep fry in hot oil until golden brown. Drain on kitchen paper and serve.


EASY POTATO RECIPES: Fried Potatoes with Rosemary
675 g potatoes
3 tablespoons olive oil
1 clove garlic, optional
2 sprigs rosemary
sea salt and black pepper

Cook the potatoes in their skins in boiling, salted water until they are three quarters cooked. When they are cool enough to handle, peel them and cut them into thick slices. Heat the oil in a frying pan and add the potatoes with the peeled and crushed garlic. Pull the leaves off the rosemary and stir them into the potatoes. Fry gently for about 20 minutes until potatoes are nicely browned. Season to taste and serve as an accompaniment to lamb, beef or pork.

EASY POTATO RECIPES: Creamy Baked Potatoes
This easy potato recipe if a firm family favorite.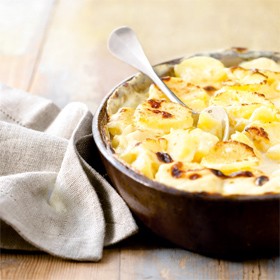 1.5 g potatoes, peeled and sliced
2 large onions, peeled and sliced

6 tablespoons butter
300 ml double cream
seasoning to taste


Blanch the potato slices in boiling water for 2 minutes. Drain well. Place the potatoes, onions, butter and cream in a large frying pan. Simmer gently for 15 minutes, making sure that you don't end up splitting the cream. Transfer to a well-buttered ovenproof dish. Season to taste and bake for 1 hour, or until the potatoes are tender.


Did you find this page helpful?
Sharing is a way of saying, "Thanks!"
Follow Us and Keep Up to Date
You can Add your own Comments, Tips and Ideas on Easy Potato Recipes Here!
We have lots of pages where you can contribute to throughout this homesteading website. We love hearing from our readers, and hope you will be one of those we hear from too. Look around our homesteading website. If you have some comments, tips, recipes or ideas of your own on easy potato recipes, please submit them. All you need to do is type and submit. We will do the rest!
Leave a Comment
Do you have anything that you would like to add after reading this page? We would love to hear your thoughts. If you can add additional information to what has been written here you will be adding value to the website! No need to have any special skills - just type and submit. We will do the rest!
Other Comments
Click below to see comments from other visitors to this page...

Farls Recipe for Leftover Mashed Potato Not rated yet
Got some leftover mashed potatoes? Simply mix in the same amount of raw oats (quick oats work too). Let the mixture set for 10 minutes or so. Form …
Don't miss out on our latest news and articles. Sign up for our free monthly e-zine!
Go from Easy Potato Recipes back to Country Cooking Recipes
Go to Growing Potatoes
New!

Comments

Do you have something of value to add? Leave me a comment in the box below.