Quick and Easy Dessert Recipes for Family or Entertaining
Looking for quick and easy dessert recipes? Our desserts found here are so easy to make that even a child could make these. Really simple desserts and recipes that look great and taste amazing!
Why be a slave to your kitchen when you can knock up desserts that taste and look just as good, get eaten in the same amount of time, and level of satisfaction are equally comparable?
The first
simple dessert recipe
on the list is our
Poached Pear and Almond Tart
. I have another firm favorite that is an upside down dessert using canned pears with a chocolate sponge, but later...First this recipe for you.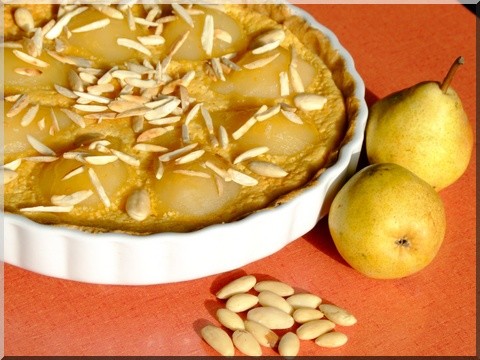 EASY DESSERT RECIPES: Poached Pear and Almond Tart with a Toffee Glaze
1 sheet sweet short pastry
6 pears, peeled
a handful of dried beans for blind baking
1/2 cup sliced toasted almonds
1 teaspoon cinnamon
1/2 cup caster sugar
1 liter water
2 orange rinds
Method
Grease a 20 cm tart tin. Line with a sheet of baking paper. Roll out the pastry and line the tin. Top with the dried beans. Bake at 200° C oven until cooked; 10 - 12 minutes.
Place cinnamon, sugar, water and orange rinds into a saucepan and bring to the boil. Add the pears and poach for 5 minutes or until soft.
Remove pears, drain completely and allow to cool. Once cooled, slice length ways into halves, remove core and seeds and place face down onto the pastry. Top with the roasted almonds.
For the Toffee Glaze
1 cup caster sugar
1 cup water
1 tablespoon white vinegar
Method:
Place all ingredients together in a saucepan and boil until the liquid thickens and darkens to the color of a golden syrup. As soon as this happens quickly spoon glaze over the pears until the whole tart is covered. Serve with double cream or ice cream.
---
EASY DESSERT RECIPES: Rhubarb and Butterscotch Tart Recipe
Pastry:
1 cup flour
50 g butter
1 egg yolk
1 teaspoon vinegar
iced water
Filling:
2 large eggs
4 tablespoons brown sugar
4 tablespoons golden syrup
4 tablespoons flour
6 tablespoons cream
2 - 3 cups rhubarb, chopped
Method:
Rub butter into the flour until it resembles fine breadcrumbs. Add egg yolk and vinegar. Mix to form a dough using as much iced water as needed to bind the flour mixture together. Press into a 20 - 25 cm pie dish.
Beat filling ingredients. Place the cut rhubarb into the dish evenly and pour filling mixture over the fruit. Bake at 180°C for 20 - 25 minutes, or until firm.
---
EASY DESSERT RECIPES: Cherry Clafouti Recipe
2 x 410 g cans pitted black cherries, drained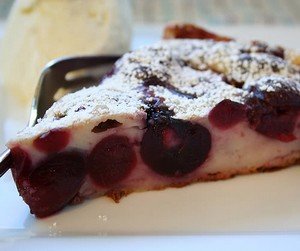 3/4 cup milk
2 eggs
2 teaspoons vanilla essence
1/3 cup icing sugar
1/3 cup plain flour
1 teaspoon mixed spice
Lightly grease 26 cm pie dish. Spread cherries over base. Beat milk, eggs, essence and sifted sugar into a small bowl. Combine with an electric beater until combined. Gradually beat in sifted flour and spice. Beat until smooth. Pour batter over cherries. Bake in moderate oven for about 50 minutes or until set and browned. Serve warm or cold.
---
EASY DESSERT RECIPES: Apple Pie Recipe
1 quantity shortcut pastry
4 granny smith apples
2 tablespoons brown sugar
1 tablespoon raisins
1/4 teaspoon nutmeg
1/4 teaspoon cinnamon


Cold milk and white sugar to finish.
Line a buttered 25 cm pie dish with half the pastry, leaving the other half for the top.
Peel the 4 apples, slicing thinly and discarding core. Layer the apple slices and then sprinkle over a little of the sugar and spices. Keep layering until the apples, sugar and spices have been used and the pie shell is full.
Dampen the edges of the pie shell, and put on the pastry lid, pressing the edges together well. Neaten and flute edges if desired.
Brush the pie with cold milk, sprinkle with sugar and cut 4 small slits in the lid.
Bake in a pre-heated oven set at 200°C for 25-30 minutes, until the crust is a pale golden color.
---
EASY DESSERT RECIPES: Baked Plums and Custard
Simple dessert recipes for fruit season time. Although this one is for plums you could also ring the changes and use fresh peaches instead.
Take 6-8 plums, stone and halve. Place in an oven proof dish and pour some pure apple juice over the plums. About 3/4 cup. Cover tightly with tin foil and bake in a moderate oven until plums are soft. Serve with lashings of custard.
---
EASY DESSERT RECIPES: Poached Pears
6 medium pears

1 3/4 cups castor sugar
5 tablespoons honey
1 vanilla pod
2 1/2 cups red wine
1 teaspoon whole cloves
3 inch cinnamon stick
Peel pears but leave them whole with the stalks on. Put the sugar, honey, vanilla pod, wine, cloves and cinnamon stick in a large pot. Add the pears and poach over a low heat until pears are soft. Approximately 30 minutes. When the pears are tender remove them from the pot and keep them warm. Remove the vanilla pod, cloves and cinnamon stick and boil the liquid until it is reduced by half. Serve spooned over pears with either clotted cream or yogurt for a healthier alternative.
---
EASY DESSERT RECIPES: Lemon Cheese Cake
Simple desserts like this are great, especially when you need to knock one up in a hurry.
For Crust:
2 cups sweet biscuit crumbs (arrowroot biscuits, Marie biscuits etc)
125 g butter, melted
Filling:
1 packet lemon jelly crystals
3/4 cup boiling water
1/4 cup lemon juice
1 dsp grated lemon rind
1 x 375 g evaporated milk, well chilled
250 g cream cheese
1 cup castor sugar
1 tsp vanilla
whipped cream
To make crust, combine crumbs and melted butter. Press on to a bottom and sides of bettered 23 inch spring-form baking tin. Bake at 180°C for 10 minutes. Cool and chill.
To make filling, dissolve jelly crystals in the boiling water, add lemon juice and rind. Cool slightly. Beat evaporated milk until thick. In another bowl beat cream cheese until smooth and blend in sugar, vanilla essence and beaten evaporated milk. Fold in warm jelly mixture. Pour into prepared crust and chill for several hours, or over night. Decorate with whipped cream rosettes and thinly sliced lemon cut into quarters.
---
EASY DESSERT RECIPES: Baked Apples
Easy desserts like these - even a child can make this one! 
Core out 4 apples, making sure you remove the core and pips.
Take a knife and lightly score a ring around the center of each apple. 3/4 fill the middle with pieces of cut up dates. Fill the rest of the space with brown sugar.
Take a thumbnail of butter and squeeze down over the hole. Place in the microwave on

high for about 8 minutes or so, until cooked. Serve with cream,
ice cream
or
yogurt
.
---
EASY DESSERT RECIPES: Rhubarb Delight
1 packet red jelly crystals
1 cup boiling water
1 cup milk
2 cups cooked rhubarb pieces
whipped cream
Dissolve jelly in water. Cool, then add milk. Stir well. Add rhubarb, fold in. Set in fridge. Decorate with whipped cream.
---
EASY DESSERT RECIPES: Pumpkin Pie
pastry
3/4 cup brown sugar
1/2 salt
1 1/2 cups pumpkin, cooked and mashed
1 1/2 cups milk
1/2 teaspoon ginger
1/2 teaspoon cinnamon
2 eggs beaten
Line a flan dish with rolled out pastry. Mix all filling ingredients together and spoon on to pastry base. Bake about 200°C for 20 minutes. Then lower the temperature to 180C and bake for another 30 - 40 minutes until filling has set.
Did you find this page helpful?
Sharing is a way of saying, "Thanks!"
Follow Us and Keep Up to Date
---
You can Add your own Comments, Tips, Recipes and Ideas on Easy Dessert Recipes Here!
We have lots of pages where you can contribute to throughout this homesteading website. We love hearing from our readers, and hope you will be one of those we hear from too. Look around our homesteading website. If you have some comments, tips, recipes or ideas on easy dessert recipes of your own, please submit them. All you need to do is type and submit. We will do the rest!
Leave a Comment
Do you have anything that you would like to add after reading this page? We would love to hear your thoughts. If you can add additional information to what has been written here you will be adding value to the website! No need to have any special skills - just type and submit. We will do the rest!
Other Comments
Click below to see comments from other visitors to this page...

Tomato Pie Recipe 

My husband has spoken of a tomato pie recipe his grandfather used to make. Grandpa died in 1962 and I have never heard of a tomato pie using ripe tomatoes …
Unknown Ingredients and Substituting Not rated yet
What are the mixed spices in the cherry pie? What is golden syrup? Can either be put together at home? Lashings of custard sound wonderful. How do you …
Don't miss out on our latest news and articles. Sign up for our free monthly e-zine!