Brighten your days by planting colorful hanging flower baskets with a splash of color under your pergolas and porches. Baskets of trailing flowers and foliage give a finished look to any outdoor living area.
Hanging baskets come in various shapes and sizes and are available in plastic, pottery and wood, as well as wire. Some have self-watering devices and snap-on hangers that convert clay flower pots into handsome aerial planters. You could of course make your own hanging baskets from plastic pots and coat hanger wire.
Here we will show you how to plant hanging baskets as well as looking at the best flowers for a variety of growing conditions; no sun but good light, partial sun, and full sun.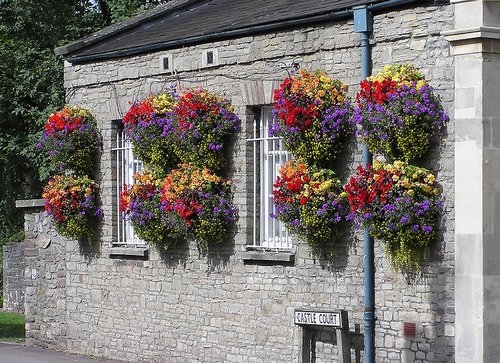 A fine example of hanging flower baskets in England

Soil and Preparing Hanging Baskets and Hanging Pots
While
fiber basket liners
are handier in preparing your hanging baskets for flowers,
sheet moss
is more attractive, and will help conserve moisture in your flower baskets.
This is one area that needs your special attention, and one of the reasons why so many flower baskets don't do well.


Keeping the baskets well watered and maintaining the moisture is a must.
Cut the moss to the shape of the flower basket or pot and if you are using strips, make sure that these are overlapping as you line your hanging basket.
Planting hanging flower baskets with beautiful and colorful plants
For extra precautions, place a piece of sacking first and then add the moss.
Drainage is no problem in watertight containers if a bottom layer of gravel and crushed charcoal is used before adding the soil. Good topsoil should be chosen for your flower baskets that also includes bone meal and well-rotten farmyard manure.
This is a medium that is favored by most flowers used in hanging flower baskets but if you have decided to plant nasturtiums or succulents, then you will need to use a less fertile soil for them to do well. Here it would be better to grow them in a soil that has equal amounts of soils and clean builders' sand.
Best Plants for Hanging Baskets and Pots
Below are some of the best plants for hanging baskets and hanging plants for the outdoors.

1.
Linaria cymbalaria
; (Ivy leaved Snapdragon.) Often found in on the walls of shaded ruins in Europe. It is a delicate and graceful grower bearing a profusion of small purple flowers during the flowering season.


2
.
Lysimachia numolaria
(Yellow creeping Loosestrife) has lovely slender stems,  and small leaves with buttercup-yellow flowers,  about the size of gold dollars.

3.
Saxifraga sarmentosa
(creeping Saxifrage.) The leaves have a lovely pattern to them, with pretty veins, and the spikes bear a profusion of small star-like white flowers.

4. Potentilla Indica
; (Mock Strawberry.)No one would think about growing this plant for the strawberries themselves as the fruit is spongy and very insipid in taste. However, it is a good shade plant and does well in hanging baskets under eaves that may not get a lot of light.


5. Vinca major
; (Large periwinkle.) An evergreen with glossy leaves about long with large blue flowers opening only in the spring. This flower, is only recommended for large hanging baskets.

6. Vinca minor
, (Lesser periwinkle.) This plant is exactly the same as the vinca major, but is smaller in flower size as well as leaf size.


7. Vinca perenne
, (Creeping periwinkle.) Again there is no confusion when looking at this plant that it would be anything else, other than a vinca. However, because it is a trailing variety, it makes a pretty show in your baskets.

8. Cereus flagelliformis
; ( Cats tail or creeping cereus). Despite the fact that this plant belongs to the cactus family it grows well in the shade in summer. If they are grown indoors, as many are, then they should be placed near a window to receive indirect sunlight.

9. Sedum Sieboldii
; (Siebold's stone crop). This fleshy leafed plant has pale purple flowers that grows well in window sills where little maintenance is required. It also needs very little water or  growing room, does well in small spaces and is very hardy.


10. Sedum acre
; (Yellow stone crop, or "Love entangle"), does well in either sunshine or shade, and has a good crop of flowers. Like its sister above, this is a drought-loving, hardy plant that needs little care.


11. Viola odorata
, (Sweet violet), has stalks that send out many slender branchlets, hanging over the sides of the pot or basket, and bearing a profusion of very sweet purple flowers.

12. Calystegia pubescens
, (Double convolvulus). Often seen as a weed by gardeners, but when planted in hanging baskets and window boxes it is contained, and will reward with many showy flowers over the flowering season.

13. Epigea repens
, (Ground laurel), is a hardy evergreen that has a profusion of pretty white, starlike flowers.

14. Mitchella repens
, (Partridge berry), another evergreen with sweet scented white flowers, followed by a lot of orange to red berries, as can be seen in the picture on the left.

15. Polemoninm reptans
, (creeping valerian), has strong flower spikes with blue flowers, which hang over the sides of the basket.
These plants have been divided into general growing conditions from areas of no sun to full sun.
6 Best Plants for Hanging Baskets and Pots for Areas of No Sun but Good Light
If you are going to place your hanging flower baskets in an area where they will get good light but no sun then you will want to plant your baskets with:
1. Asparagus Fern
2. Creeping Fig
3. Green Plant
4. Kenilworth Ivy
5. Philodendron
6. Zebrina.
10 Best Plants for Hanging Baskets and Pots for Partial Shade
If you are placing your hanging flower baskets in a
partly-shaded spot
you can use the following shade flowers:
1. Achimenes
2. Black-Eyed Susan Vine
3. Browallia
4. Fuchias
5. Dwarf Impatiens
6. Hanging Begonias
7. Lobelia
8. Bush Morning Glory
9. Pick-a-Back Plant
10. String-of-Hearts Vine
Best Plants for Hanging Baskets and Pots for Full Sun
For
sunny places
here you can plants out:
1. Alyssum
2. Balcony and Cascade Petunias
3. Ivy leaf Geraniums
4. Nasturtiums
5. Trailing Lantana
6. Burro's Tail
7. Christmas Cheer Sedums
Planting Vegetables in Hanging Baskets
Of course you don't need to just think about planting flowers in your hanging baskets. You can also think about planting them out with strawberries,
Alpine strawberries, herbs
, and
cherry tomatoes
.
Plant small varieties after packing the basket with the moist soil to within an inch of the rim. Knock larger plants from their pots and press the soil firmly around the roots and stem. Make sure that you mix your baskets with both trailing and erect growing plants, as long as they all share the same growing conditions.
Hanging Flower Basket Tips
Wind could kill your plants
when first planted out as well as dry out the soil. Therefore, when you have first planted your flower hanging baskets out keep them out of the wind for a couple of days before hanging them up on their wall brackets or suspending them from hooks.
Make sure that your flower hanging baskets are within easy reach of watering, and water frequently to prevent them from drying out. Don't forget that the wind is definitely a factor here. The more windy your location the quicker your baskets will dry out.
The difference between good hanging flower baskets and great hanging flower baskets is making sure that you
have a regular feeding program
. The soil soon becomes depleted of nutrients as all the plants start growing and therefore bi-monthly feeding with a liquid or soluble fertilizer will promote more buds, vigorous growth and stronger plants. If you are going to plant Sedums they prefer a lower-nitrogen diet.
Buy Hanging Flower Baskets Online